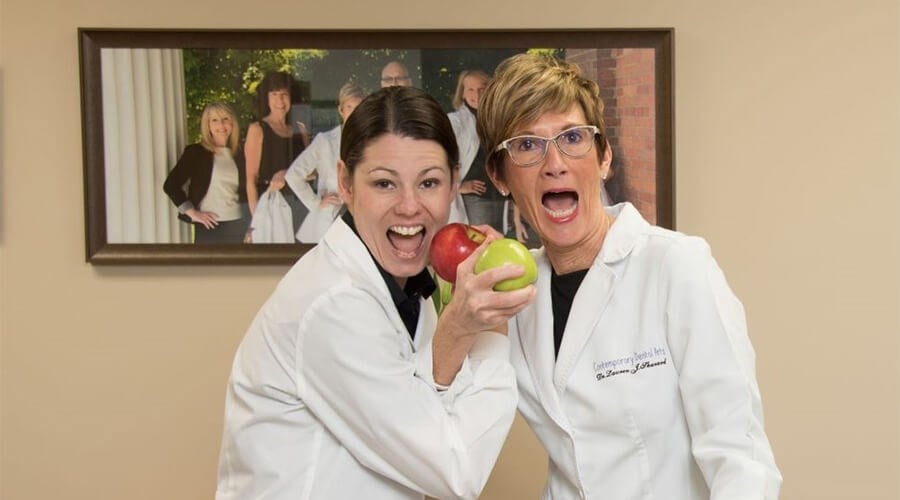 Grand Reopening
---
To all of our wonderful patients,
Finally, Governor Scott has given us the "green light" to open the doors at Contemporary Dental Arts to our valued patients. Hooray!!! We will begin seeing patients starting on June 1st, so please call and schedule your next visit. We are SO excited to get back in the office and see all of you! It has been a long wait, so please don't stay away. You will be safe here with all the protocols that have been put into place.
I hope this letter finds you and your family in excellent health and enjoying the return of the long-awaited summer in Vermont! Our community has been through SO much over the last few months, and all of us are looking forward to one day resuming our normal habits and routines. While many things have changed, one thing has remained consistent: our sincere commitment to you and your safety.
Rest assured that infection control has always been our top priority at Contemporary Dental Arts, which hopefully you have observed during your visits prior to Covid-19. Since then, we have ramped up our infection control protocols to meet and exceed the "new" CDC Standards, American Dental Association recommendations, the Occupational Safety and Health Administration (OSHA), and Vermont state and local guidelines. We want you to be able to relax during your visits, knowing that we are doing everything possible to keep you and the CDA team safe.
Here are the changes that you will observe at Contemporary Dental Arts:
Your appointments will be as close to "contact-free" as possible, from filling out forms on the website, to making payments before you even leave the operatory.
There is an enhanced protocol for disinfection of all common areas.
Treatment rooms are thoroughly disinfected as per normal, with special focus on solutions that kill virus on surfaces.
We have installed medical grade true HEPA 13 and activated carbon filtration throughout the facility, which cleans the air of contaminants and virus particles.
Extra-oral evacuation will be used for long restorative and high aerosol procedures. This removes aerosols out of the air at the source.
Your hygienist will be using a much stronger suction system during your routine recare visits to minimize aerosols.
Your team will be wearing hospital style isolation gear like N95 masks, face shields, and baggy gowns. Even though our faces are covered and it is hard to read emotions, please know that we are smiling and enjoying serving you during this unusual time.
Regarding your appointments:
Prior to your appointment, a CDA team member will communicate with you via phone or text, to ask a few important screening questions regarding your health and potential exposure to Covid-19. You'll be asked these same questions again prior to entering the office on the day of your appointment. Please bear with us, the questioning is truly for everyone's safety.
To announce your arrival, please text Penny through Podium on our website or call the office at #878-9888 and someone will be right out to take your temperature, and confirm the health questions.
Please try to come alone to your appointments if possible. If you need an escort we will make a special arrangement for that person.
We are asking that you kindly remove your shoes and put on a pair of slippers or socks prior to entering the actual office space. No worries, we will provide all of these for you and we will help you if needed.
Once you are all set to come inside, use our hand sanitizer and don a fresh mask. Someone will escort you inside.
You may see that our waiting room no longer offers magazines and coffee service. If you would like to enjoy a cup of coffee or tea, please ask someone, and we will be happy to brew for you. Bottled water will also be available.
Please adhere to the social distancing guidelines while inside the reception area, which is 6 feet apart.
Your appointments will be managed to allow for social distancing between patients. That means that you may be offered fewer options for scheduling. Keep in mind this is a temporary inconvenience.
We will do our best to allow greater time between patients to reduce waiting times, as well as to reduce the number of patients in the reception area at any one time.
You will be asked to "check out" and make payment before leaving the treatment room, to avoid congregating at the front desk. This can be done on your mobile phone prior to departing. Penny will send you a link through text or your email and you will simply follow the prompts. If you don't have a phone with you, we can still do it the old fashioned way.
We look forward to seeing all of you again. If you have questions about anything, please don't hesitate to ask. We want everyone to feel safe and secure coming back to your Contemporary Dental Arts home. To make an appointment, please call our office at 802-878-9888. You can text Penny through the Podium app on the website.
Thank you for being part of our Contemporary Dental Arts family. We value your trust and loyalty and look forward to creating happy smiles once again.
Warm regards,
Lauren J Shanard DDS, AAACD and team